Kashmiri Collection of EarCuffs
I was inspired to create a line of EarCuffs that highlight Kashmiri beads from India when I found some in a bead store. They have a rustic elegance to their design and as each bead is handmade, there are elements of uniqueness about each bead. I decided to pair them with a collection of natural stones and some sparkly Swarovski crystals which add an air of sophistication to the finished earcuffs. The wire I used is Sterling Silver.
As with all my EarCuffs because they cuff around the middle section of the ear which has cartilage there is absolutely no discomfort or pinching. I wear EarCuffs all day, day after day with absolute comfort. These earcuffs look quite substantial in size, but are very light to wear.
The first pair are black with dainty little orange flowers. I highlighted the orange flowers with some amber beads and some black Hematite stones. Sterling Silver beads complete the design.
Read about them at https://www.etsy.com/listing/193791557/ .
I wore this design all day with complete comfort recently at a wedding. Yes, that's me below.
The next pair have little tear shaped stones that have opalescent qualities. I highlighted the pink opalescence with little Swarovski crystals and Sterling Silver beads.
Read more at https://www.etsy.com/listing/194607262/ .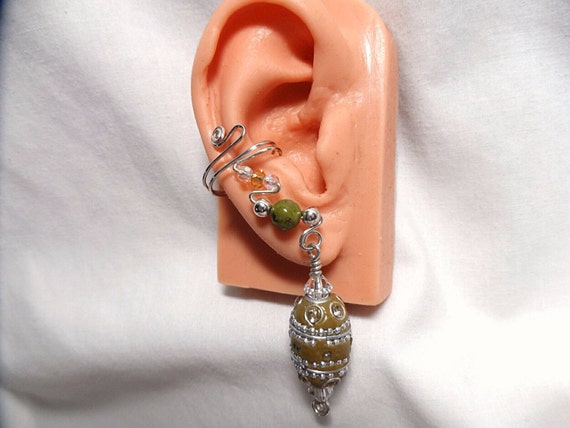 This pair is a delicate moss green and I used green Unakite beads to complelemt the Kashmiri beads along with Swarovski crystals.
Read more at https://www.etsy.com/listing/194491670/ .
As each EarCuff pair have Kashmiri beads with a unique shape, each pair look quite distinctive.
You can find this collection in my Etsy store at
https://www.etsy.com/shop/ElegantEarCuffs?section_id=15639955
.
Come back often to find additions to this collection or visit my entire
Etsy Shop
.